Black Knight Security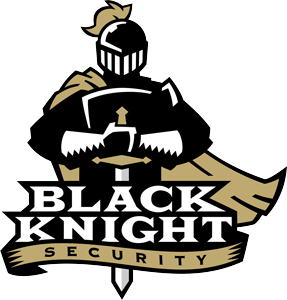 Founded in 2003, Black Knight Security (BKS) specializes in security for commercial and residential properties, and educational institutions.
BKS exceeds standard guard service by offering emergency action planning and security consulting services, as well as training classes for facility occupants on how to respond to emergencies. Every BKS security guard is thoroughly screened, trained extensively, and also certified by the American Heart Association in first aid, CPR, and the use of an automated external defibrillator (AED) – an unusual attribute for a security company.
Black Knight Security provides protection, safety and education for tenants, visitors, and workers with a strict focus on preparedness, which is the key to not only feeling safe, but actually being safer.
Our Approach
At Black Knight Security, we believe that preparedness is the key to truly making persons and property secure. That's why we prepare our clients for the unexpected by equipping them with all the tools needed for an effective emergency response. By understanding and identifying each client's unique security needs, the BKS team can determine which security services are necessary to keep tenants and visitors safe. Taking a partnership approach with our clients, we believe it is in our mutual best interest to continue to search for the most cost-effective security solutions by monitoring the latest developments in the industry.


Our Management Team
A management team with 75+ years of combined security experience has made Black Knight Security the leading authority in security for commercial and residential properties. Since founding the company in 2003, Dennis Lejeck has built a management team with extensive experience within the security industry and beyond. BKS provides innovative employee benefits and programs that attract high-quality guards, who are at the core of the quality service our clients enjoy. As a result of exceeding the industry's employee relations standard, BKS has raised the level of service that the company provides.


Dennis W. Lejeck President
Serving in the U.S. Army during Operations Desert Shield and Desert Storm, Dennis Lejeck understands the importance of preparedness and security in times of uncertainty.
His military experience and 20+ years in private security have given him insights into the trends concerning security needs in the U.S. Having experience in all aspects of security operations, Mr. Lejeck was able to create a security firm focused on customer retention through its innovative programs for both its clients and employees.
Prior to founding BKS, Mr. Lejeck served as the Director of Security for Pittsburgh's US Steel Tower, a 2.4 million square foot, Class-A commercial high-rise, and Chicago's River City Apartments, a 1.2 million square foot residential high-rise. While in the military (1988-1993), Mr. Lejeck was responsible for training stateside units deploying to Operations Desert Shield and Desert Storm. He received three Army Achievement Medals and an Army Commendation Medal during his service.
Past awards and recognition include:
2007 – Pittsburgh Business Times Diamond Award
2008 – Smart Business Pittsburgh Pacesetter Award
2008 – Pittsburgh 100 Fastest Growing Companies
2008 – Ernst & Young Entrepreneur of the Year Program Participant
2008 – Graduate of the University of Pittsburgh's Institute for Entrepreneurial Excellence
2009 – Pittsburgh Magazine 40 Under 40
2014 – Department of Defense Patriotic Employer Award
2014 – Smart Business Pittsburgh Smart 50 Award
2015 – Pittsburgh 100 Fastest Growing Companies
2016 – Pittsburgh 100 Fastest Growing Companies
2017 – Pittsburgh 100 Fastest Growing Companies
2018 – Pittsburgh "Fast 50" Fastest Growing Companies
2019 – Pittsburgh "Fast 50" Fastest Growing Companies
Mr. Lejeck is an active member of the Building Owners and Managers Association of Pittsburgh (BOMA), utilizing his business and leadership experience to positively contribute to the commercial real estate network.
Kimberly Jones, CHS-IV Senior Director of Operations
Kimberly joined Black Knight Security (BKS) in 2013. Her primary role as Director of Operations will be to ensure that we are meeting customer expectations in her Pittsburgh portfolio. Kim will achieve this through the creation of detailed policy and procedure manuals, regular scheduled customer meetings, and security officer training to include CPR/AED and Standard First Aid.
Prior to joining BKS, Kimberly served eight years in the United States Army as a Medical Specialist serving in Operation Desert Shield and Desert Storm. Kim's military experience combined with her five plus years of experience in the private security industry make her a true asset to BKS.
Kim is a graduate of the Academy of Court Reporting & Technology with an Associate Degree in Paralegal Studies.
Kim has been recognized as a CHS-IV by the American Board for Certification in Homeland Security.
"The manner in which one endures what must be endured is more important than the thing that must be endured."

                                       - Dean Acheson

Jason Ortiz Director of Operations - Chicago
Jason joined Black Knight Security (BKS) in 2019 as our Director of Operations in the Chicago market. Jason's duties include oversight of the Region portfolio in the Chicago and Cleveland Area, regular interaction with clients and site leadership, the development of local company policy and site procedures, and the mentorship of local BKS staff.
Jason began his career in the security industry in 2001 as a security officer. Over the next 18 years, he rose through the management ranks starting with Securitas Security Services serving as Branch Manager. He has also held evolving roles as Director of Portfolio Management at Premier Security and Manager of Security Services at GardaWorld. He gained knowledge of seven vertical Markets serving in those management roles with National / Global companies such as BP, Kellogg's, iHerb, Sprint, CBRE, GE, NorthShore Healthcare Systems, Hyatt Hotels and Chicago Dept of Cultural Affairs.
Jason currently holds his Master of Science Administration of Justice and Security from The University of Phoenix and is an active member in BOMA Chicago, Illinois Security Professionals Association, ABOMA Chicago, Chicago Memorial Police Foundation, ASIS Chicago Chapter and is dedicated to the advancement of the Security Industry.
"Your work is going to fill a large part of your life, and the only way to be truly satisfied is to do what you believe is great work. And the only way to do great work is to love what you do. If you haven't found it yet, keep looking. Don't settle. As with all matters of the heart, you'll know when you find it."

                                       - Steve Jobs


Najib Bello Account Manager
Najib has over 18 years of experience and knowledge in the field of safety and security. His years of experience include developing and implementing safety measures, training and supervising, conducting orientations for newly hired personnel, as well as managing loss prevention and safety programs. Although most of Najib's experience is in commercial and residential security, he has also worked in industrial security.
Najib holds a bachelor's degree from Northeastern Illinois University and a Associates from Moraine Valley Community College.
Isabella Love Lead Development Representative
Isabella joined our team in 2021 to do what she does best, serve our clients. She envisions herself in the other person's position, and uses quick thinking, creativity, and innovation to resolve any issue at hand. Her business acumen, attention to detail, and passion are qualities you will certainly appreciate.
Prior to joining BKS, Isabella has enjoyed helping others by restructuring companies and/or succeeding in overcoming sales targets in different industries. Being in hospitality for much of the time, and traveling the globe alone, safety and security has always been top-of-mind.
Her security experience includes prospecting and handling clients in the Southeast U.S. for many years. She has helped many CEO's and Property Managers reduce their costs, time, and frustrations by realizing the true saving benefits of outsourcing their in-house security.
Isabella has an Associate's Degree in Travel & Tourism Management. She does not take safety and security lightly. She has earned Master Security Officer Level 5 training, Fire Safety training, CPR/AED and First Aid training. She is also trained in Women's Self-Defense.
She was recognized by her Security Team for her site security accomplishments. She earned IHG's "Newcomer of the Year Award", which recognizes highest revenue and highest customer satisfaction nationwide for new InterContinental Hotels Group properties. She saw this hotel through design, construction build, inspection, interior design, hiring, training, opening, and management.